10 Tools to Defragment your Hard Disk
Yesterday, I covered five of my favorite multimedia players. Today I'll cover ten Windows tools that you can use to defragment your hard disk.
You need just one. So, take your pick!
Contig is a single-file defragmenter that attempts to make files contiguous on disk. Its perfect for quickly optimizing files that are continuously becoming fragmented, or that you want to ensure are in as few fragments as possible.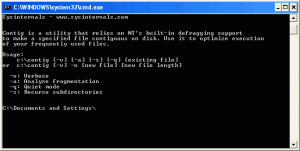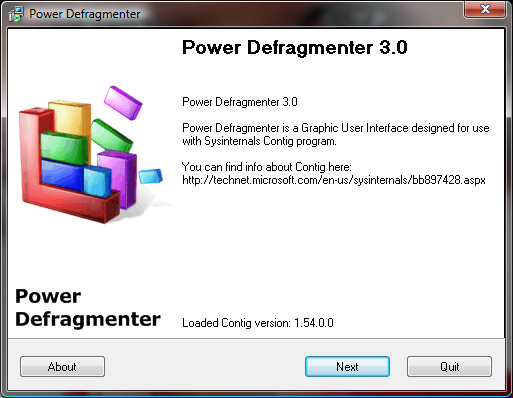 The main problem with contig is that it is command line and requires you to have some knowledge of using the command prompt. This is where Power Defragmenter steps in. It provides a GUI for contig and allows you to run the defragment process without having to enter anything into the commandline. Power Defragmenter comes inbuilt with TripleMode that runs Contig in 3 passes defragmenting any remaining fragmented files.
This was one of my favorite defragmenters before I shifted to Power Defragmenter above. Smart Defrag allows you to defragment several partitions at the same time. It also runs in the background defragmenting your drive at regular intervals.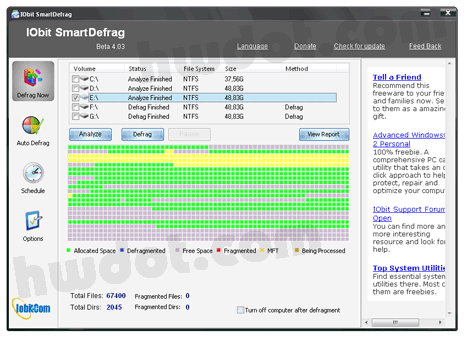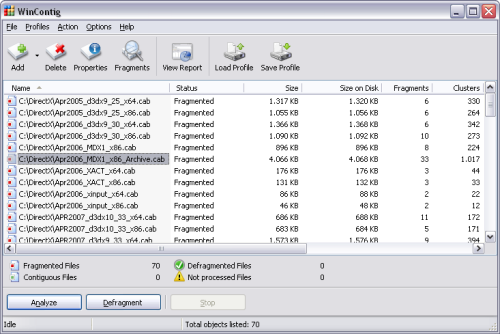 WinContig is an easy-to-use stand-alone defragmentation tool that doesn't create any installation directories or Registry entries on your computer. Its purpose is to quick defrag files without the need to defrag the whole disk. In addition, WinContig allows you to group files into profiles, and also it accepts a number of optional command-line switches that you can use to control how the program operates.
Auslogics Disk Defrag is a compact defragmentation tool that supports FAT 16/32, and NTFS (with compressed and encrypted files). For the individual and corporate user Disk Defrag is perfect for maintaining high-level disk performance.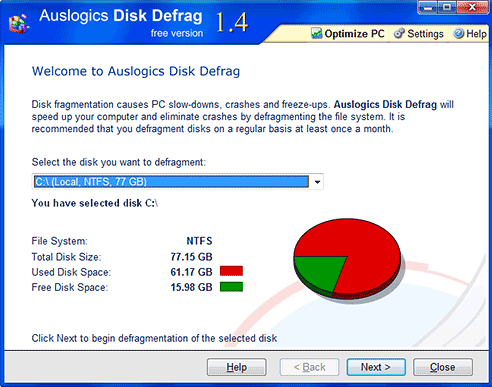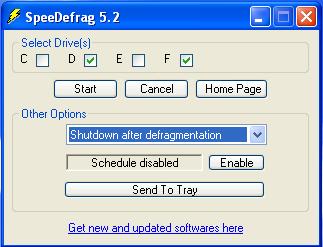 SpeeDefrag is the exclusive freeware program, which optimizes Windows defrag. It restarts your computer, which refreshes the RAM and loads just the defrag.exe program. This imposes minimum load on the system and therefore defragmentation speed is increased. This small software will also shutdown or restart your computer automatically once defrag is over. It supports scheduling of defrag and now it also performs disk checking before defrag.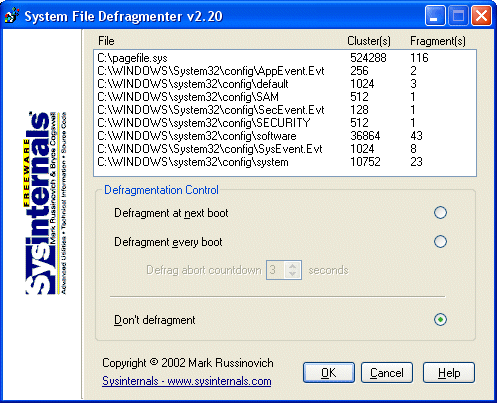 PageDefrag uses advanced techniques to provide you what commercial defragmenters cannot: the ability for you to see how fragmented your paging files and Registry hives are, and to defragment them. In addition, it defragments event log files and Windows 2000/XP hibernation files (where system memory is saved when you hibernate a laptop).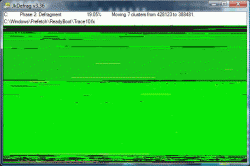 JkDefrag is a disk defragmenter and optimizer for Windows 2000/2003/XP/Vista/2008/X64. Completely automatic and very easy to use, fast, low overhead, with several optimization strategies, and can handle floppies, USB disks, memory sticks, and anything else that looks like a disk to Windows. Included are a Windows version, a commandline version (for scheduling by the task scheduler or for use from administrator scripts), a screensaver version, a DLL library (for use from programming languages), versions for Windows X64, and the complete sources.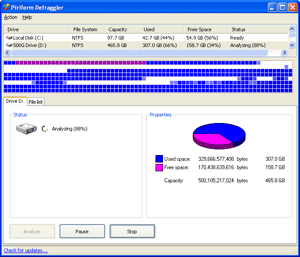 Defraggler differs from many other defrag tools on the market, by enabling you to quickly and simply defrag the files you want to, without having to process the whole drive. Simply run it, select the file and defragment in seconds.
Windows Defragmenter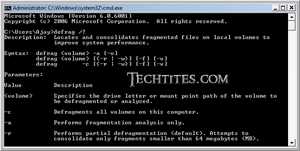 How can anyone forget the inbuilt Windows Defragmenter. Before jumping into these tools, my first option would be to run Windows Defragmenter in commandline mode, i.e. running defrag.