How to use Signal on your Desktop
If you've been following the press over the last week, you'd have noticed a large exodus of users from WhatsApp to Signal and Telegram. I am one of them and I've written about why I chose Signal as my primary messenger.
Like me, if you're familiar with WhatsApp web and have used it extensively, then you'll be pleased to know that Signal has you covered via their desktop apps as well as one for your iPad. The latter in particular is fantastic if you use your iPad a lot and find it easier to respond there with a full keyboard.
Step 1: Install Signal on your mobile
Simply visit https://signal.org/install on your phone and it will direct you to the correct location to install Signal i.e. the App Store for iPhone users and the Google Play Store for Android users.
Once installed, open the app and follow the setup instructions which requires you to provide it with your phone number and verify this with an incoming one-time-password.
Step 2: Download Signal for Desktop
Once you have installed Signal on your mobile, you can then go ahead and install Signal on your desktop. The first step is to visit the Get Signal page and on the right you'll notice links to download Signal for Desktop. You have clients for Mac, Windows and Linux.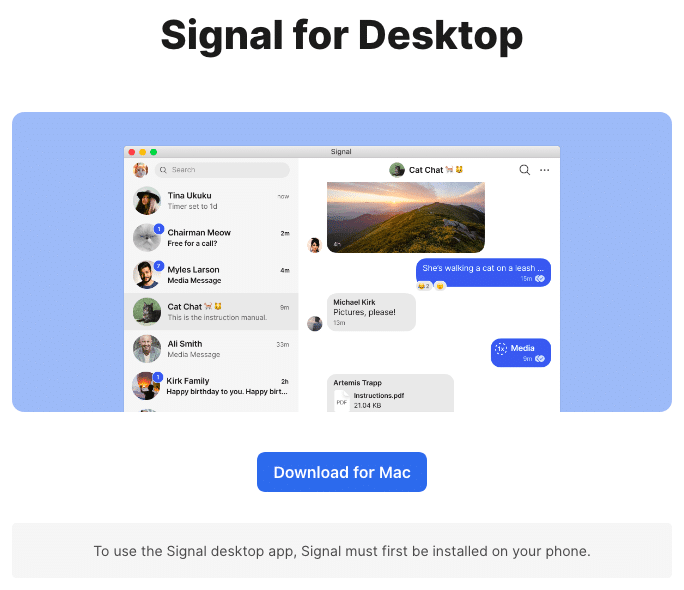 You can hit the nice blue button and download the software for your computer (in my case it is for Mac). Once downloaded, open the installation file. For Mac, you just need to drag Signal into your Applications folder. On Windows, you'll run through the typical installer.
Step 3: Link Signal for Desktop
Once installed, you can open Signal on your desktop and you'll be presented with a screen similar to the screenshot below. The square in the centre holds a QR Code which you'll need to scan using your phone – I've blanked it out in the screenshot.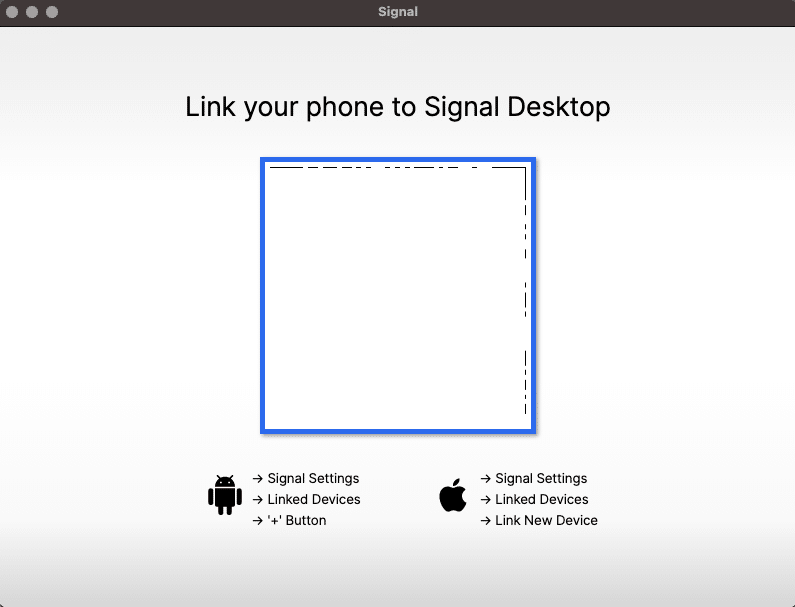 Open your signal app and then open settings. A quick way to do that is to hit your profile photo/avatar in the top left. Once there navigate to Linked Devices and hit the + button on Android or "Link New Device" on iOS.
If you haven't used your camera before in Signal, it might ask you for permission which you'll need to give. You can always disable it later in your phone settings.
Once you scan the QR Code, you will be asked to name the device. When you hit Finish linking phone, Signal for Desktop will sync your phone contacts and groups to the desktop which took several seconds for me.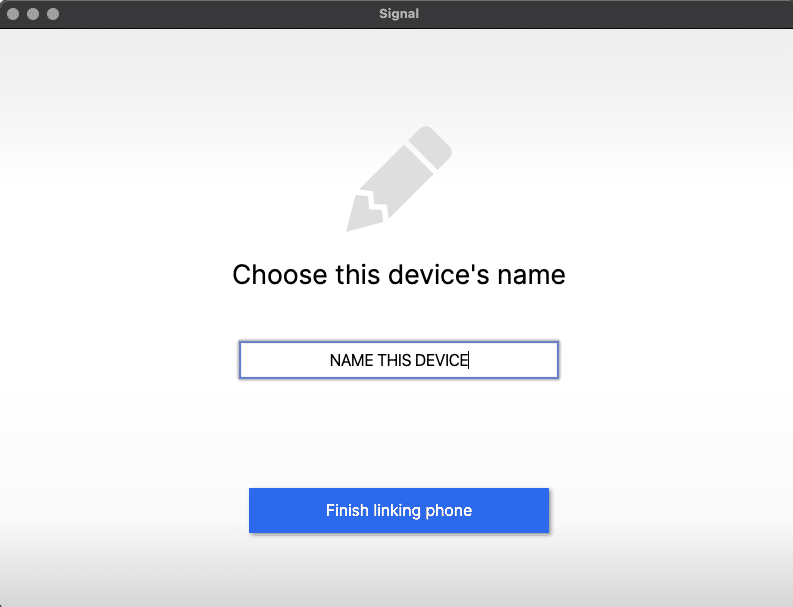 As a security measure, you will not be able to see your chat history on this newly linked device, but once you start using it the messages appear on both your mobile and this device.
That's all folks! Say hello to better battery life on your phone.