Five Tools to keep your PC running smooth (Tool Tuesday)
A secret to keeping your computer smoothly is to perform regular maintenance on your computer. Last week we covered ten tools to defragment your hard disk. Besides defragmenting, you should regularly clean all temporary files. Cleaning all these files manually can be quite a pain. So, here are some tools that can assist you to do so.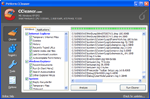 CCleaner is a freeware system optimization, privacy and cleaning tool. It removes unused files from your system – allowing Windows to run faster and freeing up valuable hard disk space. It also cleans traces of your online activities such as your Internet history. Additionally it contains a fully featured registry cleaner.
CleanUp! is a powerful and easy-to-use application that removes temporary files created while surfing the web, empties the Recycle Bin, deletes files from your temporary folders and more.
CleanUp! frees disk space and reduces the "clutter" on your computer helping it to run more efficiently. It also can be used as a way to protect your privacy on the Internet. You can even instruct CleanUp! to securely delete files making it impossible to retrieve their contents using lower-level disk tools – just another way of protecting your privacy.
Besides cleaning out the junk files, it is always useful to free up memory at regular intervals while your computer is running.
The CleanMem application was designed to be a very simple to operate as it will run and clean the memory out of all processes it can, without any user input.
RegScanner is a small utility that allows you to scan the Registry, find the desired Registry values that match to the specified search criteria, and display them in one list. After finding the Registry values, you can easily jump to the right value in RegEdit, simply by double-clicking the desired Registry item. You can also export the found Registry values into a .reg file that can be used in RegEdit.
Your computer startup time can be speeded up a good deal by preventing programs from starting automatically with your computer starting up.
Startup Control Panel is a nifty control panel applet that allows you to easily configure which programs run when your computer starts. You can choose to remove programs from startup, thus reducing your computer startup time.