Power Defragmenter GUI + Contig (Tool Thursday)
One thing that is required to maintain the smooth running of your operating system is the regular defragmentation of your hard drives.
There are several freeware and shareware programs available for use. However, one that I have been using for a long time now is Power Defragmenter GUI.
Power Defragmenter is a GUI (Graphic User Interface) application for program Contig by Sysinternals.
Contig is a very powerful defragmentation application designed for Windows NT/2000/XP/Vista operating systems.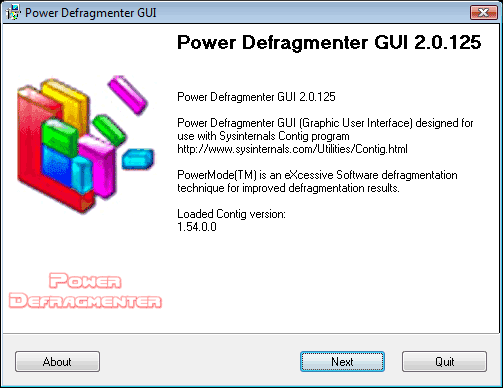 Though you can run Contig by itself via the command line, I prefer using Power Defragmenter GUI. It gives me four options for running defragmentation, viz.
Defragment File(s)
Defragment Folder(s)
Defragment Disk
PowerMode(TM) Disk Defragmentation
I normally run the fourth option, because it first defrags all the files and then runs Windows Disk Defragmenter to complete the defragmentation process.
This process makes it an excellent tool to keep your disk drives clean!