Speed up copying files on Windows with TeraCopy
If you're using any version of Windows, one of the biggest problems, even today is the slow speed of copying files. I experience this just a few days back when trying to clean up my external hard disk on Windows 8.1. If you're throwing in some network drives in the mix and be prepared to wait for a few hours to transfer large amounts of data. TeraCopy is designed to copy and move files at the maximum possible speed.

Key features:
Copy files faster: TeraCopy uses dynamically adjusted buffers to reduce the seek times. Asynchronous copying speeds up the file transfer between two physical hard drives
Pause and resume file transfer activities: Pause the copy process at any time in order to free up system resources and continue with a single click
Error recovery: In case of a copy error, TeraCopy will try several times to recover and, in the worse case scenario, will simply skip the file, not terminating the entire transfer
Interactive file list: TeraCopy shows the failed file transfers and lets you fix the problem and recopy only the problem files.
Shell integration: TeraCopy can completely replace the Explorer copy and move functions, in turn enabling you to work with files as usual.
Full Unicode support
Windows 8 x64 support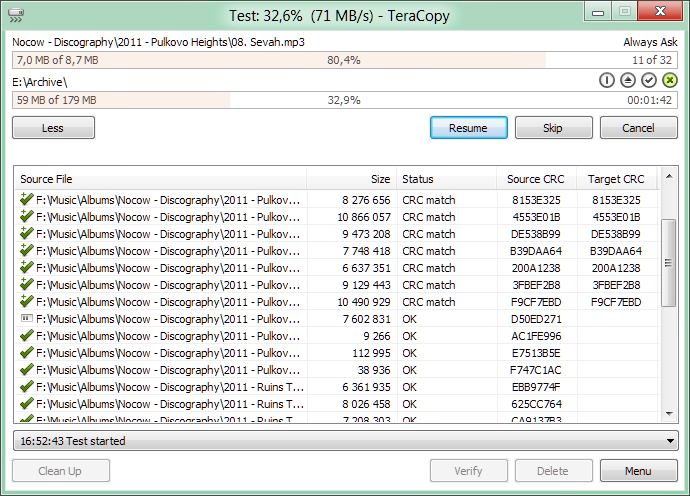 I've used TeraCopy for several years now going back right from the days of Windows XP. I love the shell integration with Windows – It can replace the Ctrl+C and Ctrl+V action so it becomes the default file copy handler in Windows. Alternatively, you can choose to use it only when  you require. TeraCopy comes with two modes, compact where you can view just the file being copied and the full mode with more details about the files.
If you've been using TeraCopy do drop in a line about your experience so far. If you're using an alternate software for copying files, let me know so that I can check it out.