Dexpot releases new version with Windows 8 support
One feature that has remained lacking in Windows is multiple virtual desktops which are easy to use and customisable. Dexpot brings this much needed feature to all Windows machine with the latest version including support for Windows 8.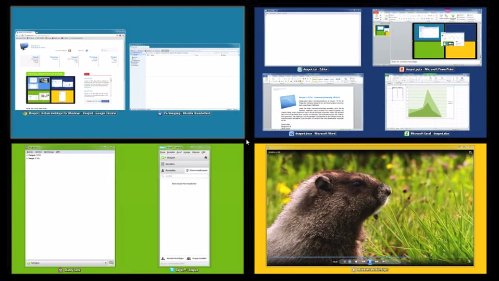 Dexpot brings to you several features that truly enhance your Windows experience. Many of these features replicate the look and feel of Mac OSX Lion and Mountain Lion.
Key features include:
Full-screen preview is an interactive live overview of all desktops which allows you to windows to other desktops by simply dragging them with your mouse
View all your windows as tiles in your desktop which lets you quickly select the window you want
Distribute your icons across the various desktops. This is ideal if you like to create desktops depending on the task at hand, e.g. one desktop for development, one for watching movies, one for browsing, etc.
Assign applications to the desktop, so that no matter which desktop you click an icon, it will open in the desktop it is assigned to. Again, works beautifully if your desktops are arranged by task
Dexpot completely integrates into your Windows environment. Shortcuts, menu items and icons in the taskbar help you improve your efficiency especially when you're jumping between screens.
New features in Dexpot 1.6.2 Build 2143
Better readability of both systray and SevenDex icons
Auto start option for Desktop Slideshow
Desktop Preview: Adjustable auto-hide delay (via registry key 'VorschauAutoHideDelay')
Windows 8 support