TubePress – A video gallery plugin for WordPress
You may have figured that we here at Techtites have a thing for WordPress. And who can blame us, right?
As a blogger there are many times I've thought about putting up a gallery of videos. This is especially handy if you run a media blog or generally do a lot of video tutorials.  There are quite a few media player plugins out there that will help you either embed videos on your blog or play videos for you, but very few that allow you to setup a gallery, and none that are easier to use than TubePress.
From the TubePress site:
TubePress is an open source PHP library that displays gorgeous YouTube video galleries in your blog. It's available as a WordPress plugin or as a stand-alone PHP library (which costs $10).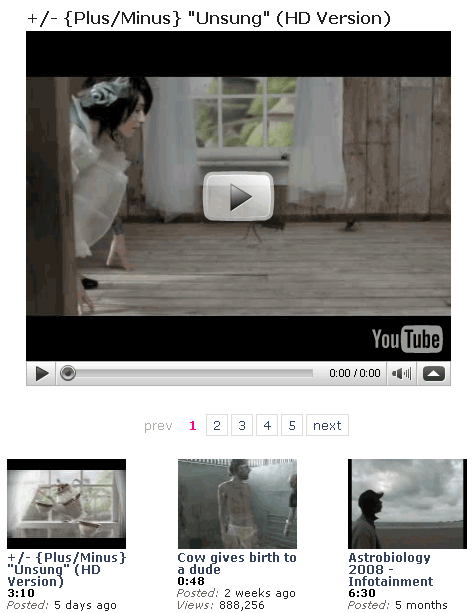 Here are a few of the features that makes this plugin such a no-brainer:
You can have 12 types of galleries: Galleries based on your YouTube playlist, YouTube User, Favorites and Youtube's featured videos to name a few.
You can choose how to watch the video: Within your post or page, in a pop-up window or using lightbox or greybox.
You can customize the thumbnail gallery: Set the order of videos, number of videos per page, limit video descriptions, etc.
Customize the Youtube Flash player: Set the height and width, turn on / off auto play, etc.
Customize what shows up under each thumbnail: Author, Date uploaded, Runtime, etc.
The list is pretty long. You can find the entire feature list here.
A major advantage of using YouTube is that even those who don't visit your blog will probably see your videos. And to increase traffic to your site or blog all you have to do is make sure you describe your videos properly.
Another  really cool thing about this plugin is that you can have multiple galleries. You can create a different playlist for each new gallery and publish only those videos that you want to show. Or you can just have a gallery page where TubePress will list all the videos uploaded by a specific user. You can even have it pull the top rated or most viewed videos on YouTube.
Best of all, TubePress has been released under the GNU General Public License (version 3). So if you know your way around php you can modify it and do a whole lot more.
Even if you don't know php, you can still customize the look of the plugin if you know CSS. Of course, I wouldn't recommend doing anything because the gallery looks really simple and beautiful and will look great on almost any blog / site.
Eric D Hough gets a big thumbs-up from me for creating such an awesome plugin and for taking the trouble to maintain and update it.
You can download TubePress and read the entire documentation if you're stuck.
If you do decide to use it, let us know what you thought of it.