Now Send and Archive with One-Click in Gmail
The voluminous storage that Gmail offers you ensures that you never need to delete any email. Instead you can archive it and save it for your records. The usual process would be to reply to your email and then hit the archive button.
Now, you can skip the two steps and perform both steps at once. Simply navigate to the Labs tab under Settings and turn on the Send & Archive module. Your Gmail should refresh. Henceforth, whenever you choose to reply to an email you will notice a button similar to the screenshot below.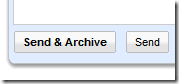 Do you have this enabled? I'd love to see a Send & Delete button.
Via: Gmail Blog