Fun app for Android and iOS: Talking Ginger
If you haven't checked it out yet, Talking Ginger is one of the most popular apps on iTunes currently.
It's late and little Ginger is getting ready for bed. He needs to shower and dry, brush his teeth and go potty. Will you help him?

Every time you get him ready for bed, you unlock a new piece of Ginger's dreams. There are 50 mysterious dreams to be unlocked. Make sure you collect them all.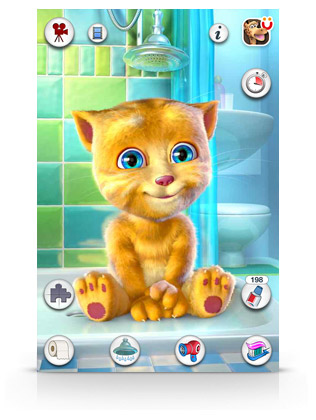 Ginger also repeats everything you say with his cute kitten voice and reacts if you tickle him, poke him or pet him. You can also record videos of Ginger and share them with friends on Facebook & YouTube or send them by email or MMS.
Outfit7 has multiple other similar talking apps, but I've found Ginger to be the cutest. You can talk to Ginger for hours!
– Download for iPhone
– Download for iPad
– Download for Android