Creating Custom Labels in Microsoft Word 2007 (Tutorial Thursday)
Last year, as part of our admissions team duties, we were required to send out prospectus to students all over India. These ranged from a minimum of fifty envelopes to over 150 at a time. During a promotion campaign we printed around 90,000 labels!
Given the sheer number of labels to be printed, we decided to automate the same using label merge. In this tutorial, I'll run you through creating a custom label, and then in a future tutorial teach you how to use it.
Microsoft Word comes inbuilt with tonnes of labels ready for you to use. However, as part of our requirement we needed to create three types of custom labels, viz. MPL12, MPL21 and MPL65. I believe it is a local make. The first has 12 labels on a single sheet, the second has 21 and the third has 65.
The manufacturer specifies all the dimensions needed to be fed into Word, so making the labels is a piece of cake.
To create a custom label, go to the Mailings tab in Microsoft Word 2007 and hit Labels.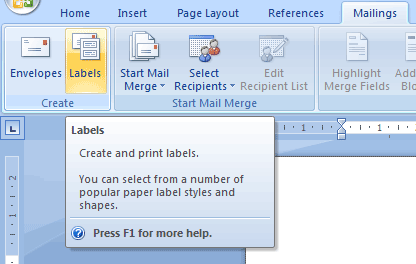 In the Envelopes and Labels window that opens hit the Options button.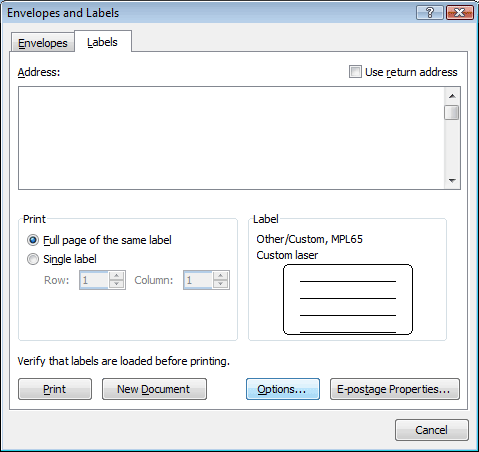 In the Label Options window that comes up, hit the New Label button.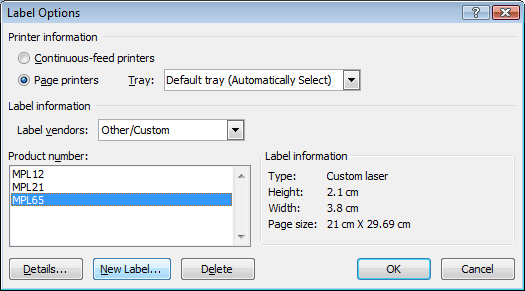 This is the final step in creating the custom label.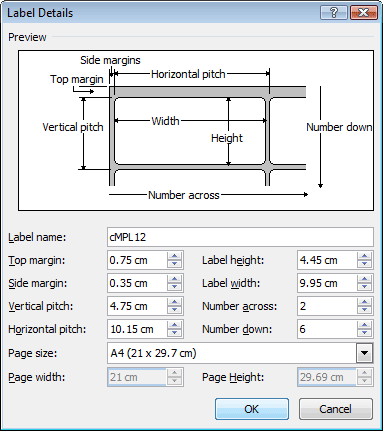 In the label details window enter in the dimensions as specified by your label vendor. The above screenshot shows you the dimensions of MPL12. Word gives you a picture with a description of each of the settings, so you can always measure the label with a ruler and enter in those values. In fact, that is exactly what I did the first time I created the label as a double check.
Hit OK on the windows that follow. Your label will be available in the Label Options window above under Label Vendors > Other/Custom.
As I mentioned earlier, in a future tutorial, I'll go through using this custom label in label merging.