Get Awesome iOS 4 Apps From iTunes
The new OS for Apple devices (get it from here) introduces many new features. The highlight perhaps is multitasking which will enable you to get the most out of your handset. People who are already using iOS 4 might be wondering when they can get their hands on applications that make use of the best this new OS has to offer. Fortunately your wait is over because I have something great to share – "Awesome iOS 4 Apps."
As the name suggests, Awesome iOS 4 Apps is a collection of the best apps for iOS 4. This collection exists as an App Store group. You click on the Awesome iOS 4 Apps link, then your web browser opens, then your iTunes opens, showing you a page similar to this: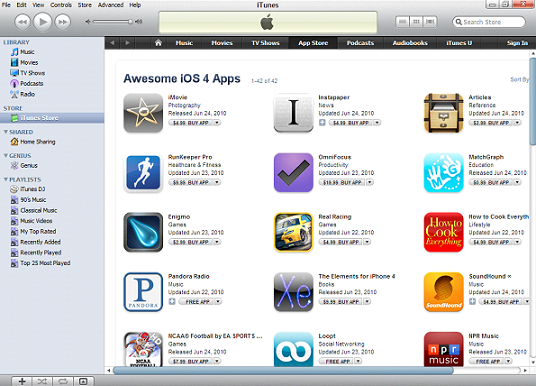 The collection has a total of 42 apps and includes games, radio apps, music apps, social networking apps, and others. Each app is accompanied by its icon, name, genre, date of last update, and price.

Out of the 42 available apps, 8 apps are available for free while others are mostly priced at $0.99. Click here to visit Awesome iOS 4 Apps and see which ones suit your needs best.