How to speed up your site with CloudFlare
Many weeks back after much deliberation, I decided to give CloudFlare a shot. As they describe themselves…
CloudFlare protects and accelerates any website online. Once your website is a part of the CloudFlare community, its web traffic is routed through our intelligent global network. We automatically optimize the delivery of your web pages so your visitors get the fastest page load times and best performance. We also block threats and limit abusive bots and crawlers from wasting your bandwidth and server resources. The result: CloudFlare-powered websites see a significant improvement in performance and a decrease in spam and other attacks.

CloudFlare offers both free and paid plans. You can check out a comparison between the various plans as well as see all that you have for offer. If you're running a huge site, getting a paid plan is definitely a great option. It definitely works out cheaper than running your own server.
If you've decided to take the plunge, here is how you can go about speeding up your website. Note that you'll need to be able to have access to change the nameservers for your domains, as well as add and activate a WordPress plugin (optional).
Follow my guide below to add your website to CloudFlare. I'll walk you through how I added my site on Sir Arthur Conan Doyle to CloudFlare.
1. Signup and begin adding your first domain
Firstly signup for an account with CloudFlare. Once you have an account you will be prompted to add your first website. CloudFlare will scan your website for DNS entries and ask you to continue with the setup.

2. Configure your DNS records
You'll be presented a list of all the records that CloudFlare can find. The setup wizard does a good job of finding these records. If you have any doubt on the records, I suggest running a scan of your site with intoDNS.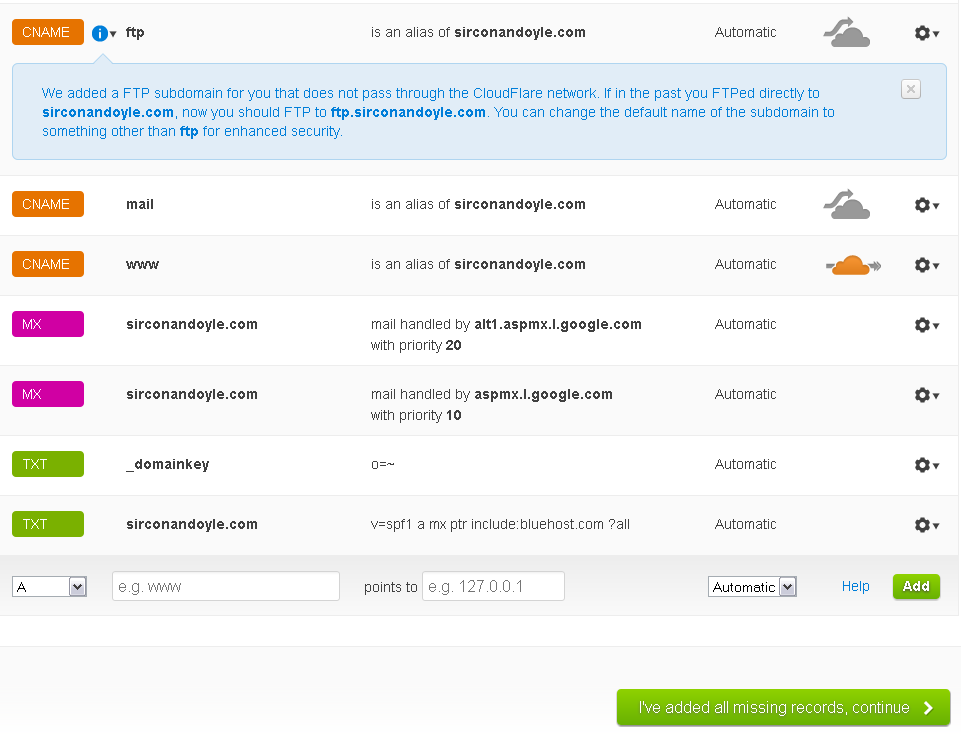 The coloured icons are those which will be pushed through CloudFlare's servers, while the other icons will be those that are directly served from your original server. Note that you'll have a new ftp subdomain created which you will have to use going forward to upload files (if you use FTP for this purpose).
3. Choose your settings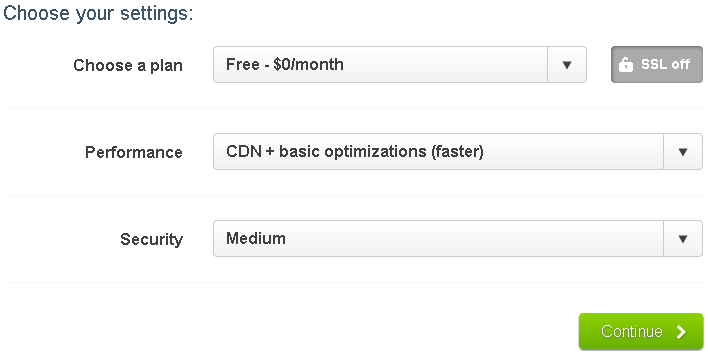 You are now presented with the options to configure your plans. I've chosen free above, but you can choose between the Pro plan which is $20/mo for your first site and $5/mo for subsequent sites.
You have three choices for Performance. The basic CDN will just pass your site through CloudFlare without any special optimisations applied. You can choose basic optimisations for JavaScript minification or the last option which may impact the display of your site.
I suggest started with just the CDN option and then pushing up the performance settings later. You'll also be able to make selective changes to the underlying settings for each of the categories once you have your site up and running.
4. Update your nameservers
You next need to update your nameservers to get your site to use CloudFlare's network. This is where you'll head over to your DNS provider, which is usually your webhost if you're hosting with a host like Bluehost or the place you registered your domain, e.g. Godaddy, Namecheap or WebberZone (shameless plug of the domain service I run!)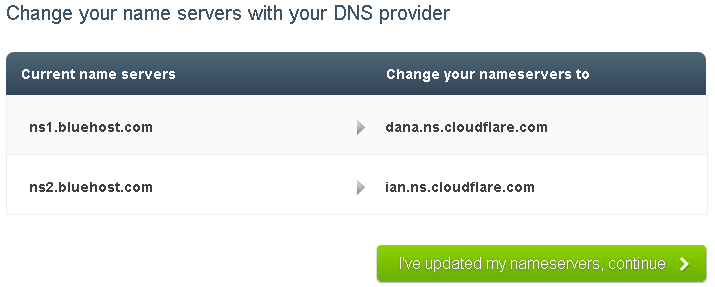 This is where you need to be very careful that you don't make a mistake, because one mistake and you're site will no longer be accessible.
Once you've done that you'll get a congratulatory message on completing the guide.

5. Add the WordPress plugin
This step is optional, but highly recommended since it allows better tracking of your statistics and better protection against spammers.
Head over to your WordPress blog now and add the CloudFlare WordPress plugin. Add your API key and email on the settings page and you're done.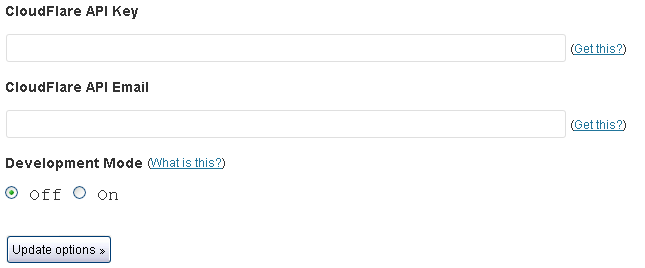 Sit back and relax and watch your website get faster over time! Have you already configured CloudFlare? What has your experience been so far. Else, what alternative provider do you use?