How to switch from Hangouts to old Google Chat
Google introduced Hangouts to replace the old Google Chat interface and most likely you'll be using this interface in your Gmail interface as well as on your mobile devices. Hangouts added a several features missing from traditional chat including the Group conversations.
However, I, for one, prefer the traditional Google Chat interface that gives me a one shot view of who is online and not. Gmail currently allows you to switch back to the old interface rather easily. If you're seeing the current Hangouts at the bottom right of your Gmail window, click on your name.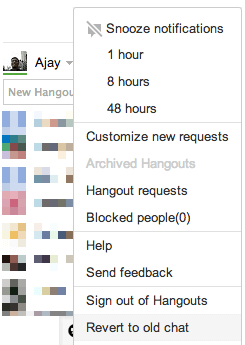 It will open up a menu as above. Scroll down to the bottom and hit "Revert to old chat". And, it will revert to your old Google Chat.