Fix Common Windows Problems and Issues Easily with FixWin
There are a number of common problems in our Vista and 7 operating systems which are quite bothersome and succeed to a great degree in ruining our entire computer experience. The problems we are referring to range from the inability of Windows Media Player to properly show slideshows to Explorer.EXE not starting on system startup.
These problems have fairly simple solutions. But the average user only gets to these solutions after much frustration and by trial and error on searching the internet. The various how-to's available by great bloggers help to a great degree but still leave the actual solving part to the computer user himself/herself.
For a long time now computer users have desperately needed a program which provides solutions to these common problems at the click of a mouse. Simple, sleek, and fast is what the solution solving should be like. But most of all, users should not have to deal with the complication themselves; the problem should be solved without causing the user to be confused.
If you are looking for such a program to solve the nuisances present in your Windows Vista and & operating systems, then the best possible option to go with is FixWin.
FixWin is sized at less than 200KB and is downloads in the form of an extractable archive. No installation is required; all you do is run the executable file you extract from the downloaded archive. Here is what the program looks like: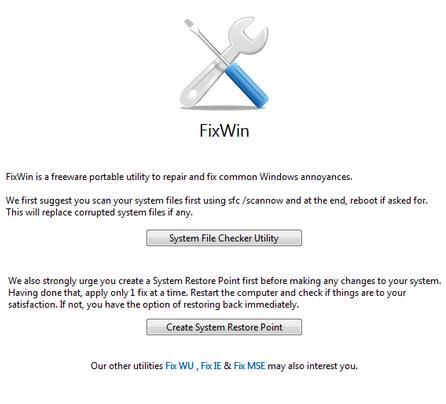 The first step would of course be to check your system for any corrupt system files. The program will fix such files if they exist and prompt you to restart your PC.
If there are specific problem you want solved, go over to the relevant link on the left. You will the various common problems listed, followed by a button to quickly solve them. Take a look at how the panel of 'System Tools' looks like: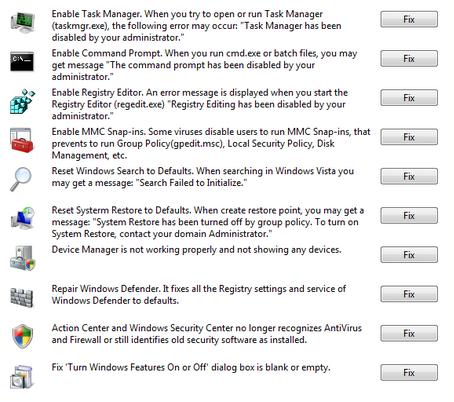 Similarly you are provided panels for each of the fields on the left. In total, FixWin easily resolves about fifty most commonly experienced issues by Windows 7 and Vista users.
If you use either one of these operating systems, you cannot afford to miss out on this great freeware utility.