I'm on the cover of Geek You!
Or… how to create a fake magazine cover.
If you're like me. There is a high probability you won't have your face on the cover of Time Magazine.
However, with MagoFun, you sure can try to get it on the cover of a magazine of your choice.
It is extremely easy to use. You just need to upload a picture of your choice and then select a magazine cover of your choice and you're good to go.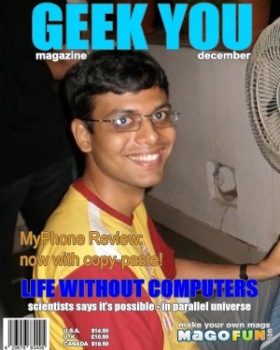 Once you have your magazine cover ready, you can share it on a huge set of social networking sites, including twitter, Facebook and Orkut.