FeedDemon + Google Reader = Bye Bye other feed readers
I'm sure most of you have heard of it already, but FeedDemon now includes synchronization for Google Reader as well as the already existing Newsgator, which has been a part of it ever since the beginning.
I've been using FeedDemon for several years now and the best part of it is the complete synchronization it has with Newsgator. I've been running the beta versions and it's turning out better with time.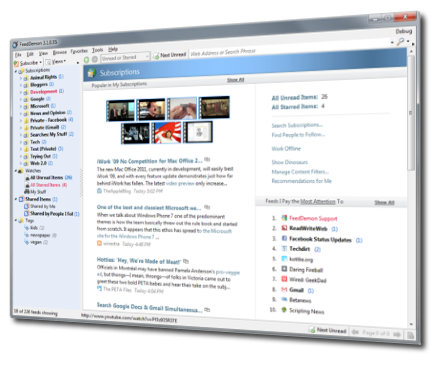 Google Reader synchronization is a work in progress but currently you can choose between Newsgator and Google Reader. Current users can choose to convert their feeds to Google Reader by selecting Tools | Synchronization Options | Advanced and clicking "Convert Now."
However, I suggest not jumping just yet because your existing tags in Google Reader are still not synchronized. Nor would your existing flagged items. Nick is currently working on getting these two problems fixed.
Google Reader has been a favorite reader for a lot of persons that I know who swear by its ease of use. It definitely is more user friendly that Newsgator's online version. With the synchronization with Google Reader, you can now read the feeds peacefully on your computer using FeedDemon and when you are outside you can go back to Google Reader, without having to worry about reading at both places.
I'm going to wait for Nick to fix the few issues before I make the switch 🙂