Clear up Duplicate Files with Easy Duplicator File Finder
Wonder what's cluttering your hard drive? More often than not it is a huge collection of duplicate files.
Easy Duplicate File Finder is a free powerful tool that helps you to find and remove duplicate files on your PC.
Features:
Search for true duplicates (files with same contents)
Flexible Scan settings – Filter files based using masks
Find duplicates from selected folders or drives
Safely delete files by moving them to recycle bin
Duplicate file management – remove only unnecessary duplicates
Export list of duplicates to HTML document or to TXT file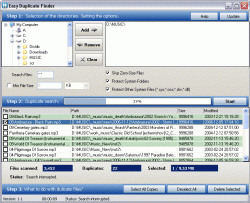 All you need to do is select which directories you want to scan and then search for duplicates and then delete the duplicate files.
– Download Easy Duplicate Finder
– Download Easy Duplicate Finder Portable