Learn how to play the piano with Synthesia
I learnt to play the piano when I was eight and the journey continued until the age of 13, when other priorities took over. Since then I've dabbled my way around a keyboard never really taking it up seriously. Hmmm… well, I don't have plans just yet to do so.
However, this software is for persons interested in learning to play the piano as well as those who want to go pro but don't want to invest in classes. In my opinion, classes are extremely useful especially if you are serious on learning the finer details.
Synthesia is a game that teaches you to play the piano using falling notes. No sheet music reading is required. With it, you can:
Learn to play songs using a musical keyboard connected to your computer.
Keep track of your progress in every song with per-song scoreboards.
Slow, fast-forward, and rewind songs while learning new parts.
Practice left and right hand parts together or separately.
Try out any MIDI file you can find on the Internet.
Use it on either your PC or Mac.
The game is currently a work in progress with new features being added at regular intervals. Synthesia also includes a Learning Pack Edition. This is a paid version of the software that allows you to learn is a less restrictive environment as it waits for you to play the key before moving ahead.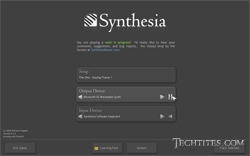 Check out more screenshots of Synthesia.
And, Sean over at HDPiano.com has started using Synthesia to teach the piano. Check out a sample tutorial and the video below of Kanye West's Homecoming.
Windows XP/Vista
Windows Installer (2.4 MB exe)
Stand-alone Zip (2.3 MB zip)
Mac OS X 10.4 or later
Universal Package (2.5 MB dmg)