Multimedia Monday: Prism Video Converter
Prism Video Converter is a free video file format converter for Windows.
It can convert video files from avi, mpg, vob, wmv (Windows Media Video formats) and more into avi, asf or wmv files.
You will need to have the appropriate codecs installed in order to run the conversion.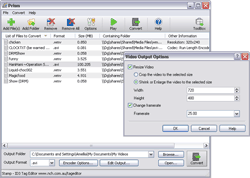 Features:
Converts avi, mpg, vob, asf, wmv, mp4, ogm and all video formats that have a DirectShow based codec to AVI and Windows Media Video formats.
If you can play the video file using 'Windows Media Player' you can convert it using Prism.
Set compression/encoder rates of output files.
Set resolution and frame rate of output files.
Prism can be added to your right click menu for easy access.
Prism video file converter has an intuitive and easy to use interface.
One really good feature with Prism is the ability for you to queue up all your files and do a batch conversion. These files can be in any format and you can choose the output format.
And, you can set all the encoder options so as to customize the settings you have in the video file.
– Download Software (zip file)
– Download Software (exe file)