Ever try to hunt for a domain name but are clueless as to which one to purchase. Or maybe you're just hunting for some random suggestions.
If you're stuck, MakeWords.com can definitely help clear the confusion.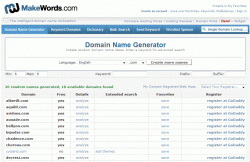 MakeWords.com offers you several different methods to hunt for domains.
The default is the Domain Name Generator. This will allow you search for random names. You can select the maximum and minimum length of the domain and it will give you list of available and unavailable domains. I wish there was a way of only viewing the available domains.
You can select from a whole collection of registrars and the site will generate the links that allow you to begin the registration process directly!
Keyword Domains is the second method of hunting. Enter your keyword and MakeWords will give you a list of domains that contain this keyword. Here you can filter to view only the available domains.
You can search through a wide variety of themes including countries, banking, common prefixes and suffixes.
The third method is Dictionary. Enter a dictionary word and receive a list of related words. Finding available domains from common words is impossible, since most of these are already registered.
Seed Keyword Spinner mode looks for word relations and rearranges the word parts to come up with random names.
You can also perform a bulk search or custom words.
If you've finalized on the domain you've wished to register, look no further than our sister concern WebberZone Domains. There are some exciting promos running.