Reply FaceBook Comments Through Email Now
There is a good chance that a lot of our readers have an account on Facebook. Being an increasingly popular online social network, the number of Facebook's members is increasing exponentially. The network is kept interesting with the use of various third party applications (such as Mafia Wars and Farmville) and by the introduction of newer and better features in the website design.
Recently Facebook has announced another great feature that it will be adding to itself. This feature increases the functionality of the notification emails we get from Facebook.
When you create an account on Facebook, by default you are sent emails of different notifications. For instance you are emailed each time somebody posts on your wall, sends or accepts a friend request, "likes" a picture or video of you, etc. But these emails do not provide much functionality since they serve only as a notification. For example if a friend, John, posts "Hi" on your wall, the email you receive will not include the message, but only a notification stating that John has posted on your wall. Due to this lack of functionality most Facebook users choose not to have emails sent to them. Having disabled the email notifications option, we visit Facebook to get out notifications as well as viewing our messages.
While this procedure prevents our email inbox from a lot of Facebook email clutter, it does prove to be useless on a network on which Facebook is blocked.
Thanks to Facebook's new feature however, we can easily comment on wall posts through our email. By enabling the Facebook emails notification option, we can get an email each time somebody posts on our wall or comments on our post. From now on this notification email will include the message which our friend has posted. All we do is REPLY to this email, type our message, and click SEND. Our typed message will appear as a comment on our post.
You can see the example image from Facebook's blog below: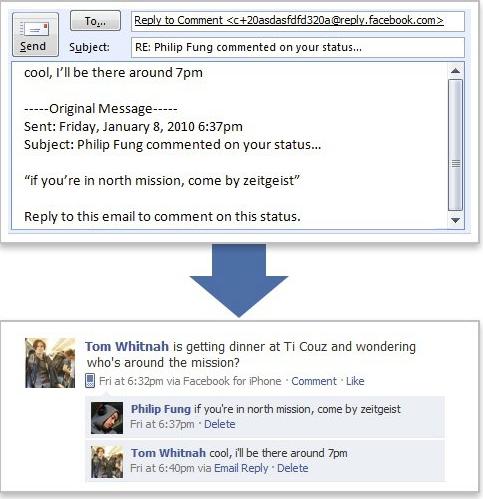 This great new feature will particularly be helpful for people who are trying to catch up on their Wall or posts on a network which has blocked the Facebook site. Taking advantage of this wonderful new function, we can continue our Facebook conversations without any unnecessary delays.