Upload to multiple hosts with Gazup!
Are you constantly sharing files with your friends, site visitors etc? If so, then you already familiar with Rapidshare, Mediafire, DivShare and other file sharing sites.
However, uploading to a single file sharing service has its negative points. For one, the site may be blocked on certain internet connections. Visitors from the same IP cannot download together across many services and lastly, users may not like the site you are using!
Lastly, you may not make some money on the side.
This is where Gazup comes in.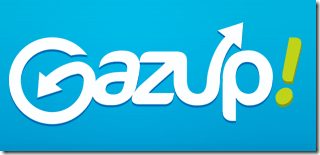 Gazup! is the leading website for social file mirroring online. You'll be able to upload files to multiple file hosts in one go thus saving you time and bandwidth. Simply upload a file and Gazup will rapidly mirror your file to eight hosts, including RapidShare, MegaUpload, FileFactory, zShare and many more.
Gazup has unique features for both video and normal file formats, e.g. uploading a video will automatically generate screenshots of the videos frames and display a presentation next to the download links.
Gazup also includes link checking, to allow uploaders to "cure" dead mirrors and allow uploaders to customize mirror pages and much more. These type of features mean we can offer a service NO other sites are even capable of doing.
And, lastly, you can earn rewards for using this service. Simply upload a file to Gazup! and you'll be rewarded one point for every person who downloads your file. You can make $3.00 USD for every 1000 points. But, that's if you are a member.
Via: Blog Solute