Record and Share Text with Online Text Recorder
When writing an article for any blog I make sure to collect maximum information about the post and note it down on Notepad because I always find it hard to switch from one tab to another. I do that because there isn't just one source of information I use. I like to take opinions of all the popular websites out there and even test out the services I'm writing about and then present it to our readers so that they don't get disappointed.
It has happened to me before that while I'm writing an article, it disappears due to any technical issues. It could be a PC crash, light fluctuation etc. But now I have found a free tool that records absolutely anything I write.
Livetyping is an excellent text recorder that records text as you type. It really doesn't care if you enter typos or what so ever. To get started all you have to do is log on to LiveTyping.com and start typing in the content box to record your text. Once you are done with that you can either post the article on your blog or simply share it by forwarding a link. In addition to that you can choose from 4 available fonts, mention the speed of virtual typing so that it doesn't miss on anything and finally set the width of the result picture.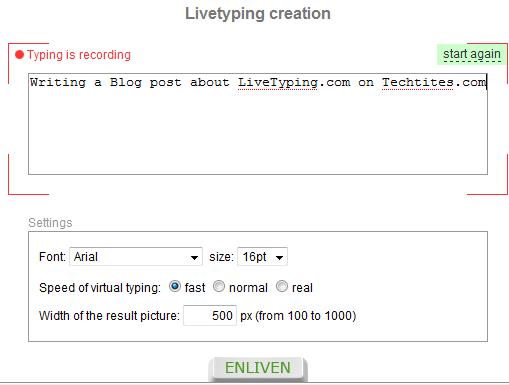 Aftering entering your text click and you will be able to get links for
Picture
Code for a site or blog and
code for a forum
Here is how it looks

LiveTyping doesn't require any registration but if you want to store your Livetypings online so that you can replay them at anytime later then simply go ahead and register for a free account on the website.
Check out LiveTyping and Record your Text online.