4G Mobile Broadband Providers – How they Stack Up
With all the recent talk about 4G service and its blazing speeds, there is much debate as to which service will provide the best download and uploads transfers. There are basically three networks that are dominating the internet landscape and include LTE, WIMAX, and HSPA+. There are differences between these services which are explained below to help you choose the right service for you and your family.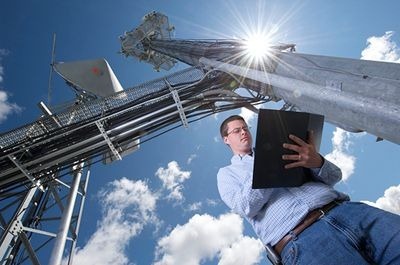 LTE Technology
LTE, also known as Long Term Evolution, is a form of 4G network that is used by Verizon. In theory, LTE can provide download speeds of up to 100 Mbps and upload speeds of 50 Mbps. Many mobile broadband customers will never reach these speeds on their phones, as network bandwidth is distributed amongst millions of users. Public speed tests, however, have shown that download speeds on an LTE network can average as high as 30 Mbps depending on location.
In order to receive such fast download speeds, the Verizon phone that you are using must be 4G-compliant. It should be noted that download speeds are nearly twice as fast most internet providers which only claim to be 4G. Ultimately, Verizon plans to provide complete 4G access from the west to east coast.
WiMAX Network
Sprint currently uses the WiMAX network to provide 4G speeds in select locations. Once again, a 4G Sprint phone will work to its highest potential but only if the internet providers in your area are linked to its technology. Sprint operates using a 2.5 GHz band that uses IEEE 802.16e specifications that allow for theoretical download speeds of up to 128 Mbps. With the network loads that are met by Sprint, much of this is only in theory. Download speeds on Sprint's 4G WiMAX network provide average speeds of up to 4-5 Mbps. If the 4G service is not available in your city, Sprint still uses a 3G network that provides speeds of up to 3 Mbps.
Is HSPA+ Really a 4G Network?
The next type of network that is used is the HSPA+ network. Standing for High Speed Packet Access, this network is actually just an improved version of their 3G network. AT&T currently uses this as their primary network for its mobile broadband and is scheduled to develop an LTE network in the upcoming year. In order to keep up with its fellow competitors, AT&T has begun branding their improved 3G network, HSPA+, as 4G. This has drawn some skepticism from critics who claim that the system is nothing more than a 3G service that is slightly improved.
T-Mobile is another provider that currently runs on a HSPA+ network. Download speeds are between two and seven Mbps depending on location and network load. One benefit of this service is that it has the largest nationwide coverage available from any provider. The only downside is that T-Mobile and AT&T alike may not be deemed to be "true" 4G providers.
The Clear Winner amongst Providers
At the present moment, the clear winner for anyone wishing to have the fastest possible speeds would have to be Verizon with their LTE technology. If Verizon's LTE covers your area, consider upgrading to a 4G phone capable of utilizing the network's full potential. WiMax and HSPA+ services may be available in your area, but consider this fact: AT&T currently uses HSPA+ to provide its "4G" speeds, but they have future plans to rollout LTE coverage across the nation. WiMax may be considered a decent choice, but as things currently stand, LTE is far-surpassing download speeds of all other networks on average.
It seems that, for now, many companies do not want to be left behind and are doing their best to pass off their current networks as 4G in an effort to keep and draw in more customers. It may be up to consumers, however, to decide what passes as 4G and what does not.
Blake Sanders is a writer of technical information at broadband comparison site Broadband Expert. Blake specializes in mobile phones and news and information on mobile broadband.
Note: Photo courtesy of inl via Flickr Creative Commons.