50% off ABBYY FineReader 11 this Christmas
Normally, if you scan a document, you will not be able to copy text or search for text within the files. The professional edition for Acrobat (which would set your wallet back a bit) allows you to run an OCR (optical character recognition) scan to "convert" this to text you can copy or search. An alternative to this are OCR software.
ABBYY FineReader is a powerful OCR software turns scans, PDFs and digital photographs into searchable and editable documents. The software has amazing recognition accuracy and conversion capabilities that virtually eliminates retyping and reformatting of your documents. It's intuitive interface makes it easy to use and one-click automated tasks let you do more in fewer steps.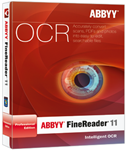 ABBYY FineReader 11, which was released in August 2011, delivers a powerful set of features and tools aimed to simplify, speed-up and optimize everyday work with documents and images. The key new features include:
Accelerated OCR and Powerful Productivity Tools
The new version has a "black and white" mode that is perfect for scanning newspapers, books and documents much faster than the colour mode. An "Enhanced Fast Processing Mode" has been added for quicker scanning results (although these may be less accurate than the default mode). FineReader 11 recognises text in 189 languages!
Easy and Flexible E-book Creation
ABBYY FineReader 11 allows users to convert paper documents and images of text to a variety of formats supported by e-book readers, tablet PCs and smartphones, including the newly added Electronic Publication (.ePub) and FictionBook (.fb2) formats. Additionally, texts converted with ABBYY FineReader 11 can be sent directly to the user's Amazon® Kindle™ account.
Saving to Microsoft® Word, PDF, and OpenOffice.org TM Writer with Native Formatting
With the enhanced ABBYY ADRT® technology, FineReader 11 provides more accurate reconstruction of the document's original formatting, including table of contents, headers and footers and other attributes commonly found in multipage documents. The new version delivers significant improvements in the detection of vertical headers, as well as margin notes, diagrams, tables, and styles, minimizing the effort typically required for manual correction.
New Interface Capabilities and Tools
The new interface includes document splitting, a new style editor for consistent styles across documents, an enhanced image editor and an enhanced PDF converter.
ABBYY FineReader 11 is available in two editions (Professional and Corporate Editions designed to meet the needs of different user groups and throughput requirements). ABBYY FineReader® 11 Corporate Edition is designed for collaborative work across a corporate network. Productivity enhancing tools for corporate environments such as task automation, redaction of sensitive information, automatic OCR processing from "watched" folders and direct output to Microsoft® SharePoint®, help make ABBYY FineReader 11 Corporate Edition an essential tool for business.
And, now you can win a copy of ABBYY Screenshot Reader (and also get ABBYY FineReader at a 50% discount) by playing a simple game. Click on the image below to win a copy of the software.
ABBYY Screenshot Reader creates copies of images which you can easily cut and paste from your clipboard to Microsoft® Word, Excel®, PowerPoint® or graphic files. You can use Screenshot Reader to select and copy pieces of text from images, flash files, PDFs, and other image-based files, and convert them into true text which you can edit or insert into another document.