FoxLingo is considered is your all in one Language tool that offers great features such as Web Page Translation, Translated Search, Auto Translation, Text Translation, Language Resources and Learning Languages.
FoxLingo helps you translate webpage in over 1,500 different language pairs and allows you to search foeign pages using terms written in your language. Furthermore it automatically translates websites by recognizing their domain and translates text entered in the search box or any selected webpage for that matter.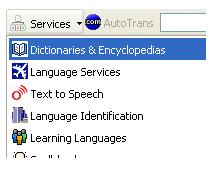 FoxLingo supports 50 languages including Supports 50 languages and over 1,500 different language pairs:
Afrikaans, Arabic, Aranese, Bulgarian, Catalan, Chinese Simplified, Chinese Traditional, Croatian, Czech, Danish, Dutch, English, Esperanto, Filipino, Finnish, French, Galician, German, Greek, Hebrew, Hindi, Hungarian, Icelandic, Indonesian, Italian, Japanese, Korean, Latin, Latvian, Lithuanian, Malay, Norwegian, Occitan, Polish, Portuguese, Portuguese Brazilian, Romanian, Russian, Serbian, Slovak, Slovenian, Spanish, Spanish Latin American, Swedish, Thai, Turkish, Ukrainian, Urdu, Vietnamese, Welsh.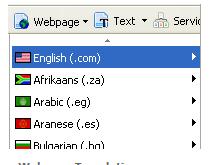 In addition to that there are 36 free online web page translator services offers by FireLingo such as WorldLingo, Google, Altavista, Apertium, Ask, Cervantes, Citcat, Eigo-navi, Elmundo, Excite, FreeTranslation and Yahoo. FoxLingo is the ultimate language tool and can definitely come in handy for those who are learning new languages or looking for additional information that is not available in their language.