Before any of you wonder what we're talking about, GIMP is an image manipulation software. We aren't reviewing any psychotic, masked slaves, the kind you'd find in Pulp Fiction or other such classics. (However if you do fancy those Gimps, just drop us a line and we'll be more than happy to oblige you with a review.)
Focus:Â  GIMP!
Right, to avoid confusion;
"GIMP is the GNU Image Manipulation Program. It is a freely distributed piece of software for such tasks as photo retouching, image composition and image authoring. It works on many operating systems, in many languages. (more…)"
– From the Gimp website.
After using the software for a while you realize that it's capable of a lot. The UI isn't particularly great, but it's very simple and no tool is more than a couple of clicks away making it fairly easy to use. It didn't take me very long to figure out the basics. You can do almost all the basic things that you'd want to in an image manipulation software. Red Eye Removal for those Facebook junkies, image cropping and re-sizing for any of you obsessed with sharing all your photographs, colour correction and image enhancement are just a few of the things you can do with GIMP. You can also delve into deeper and more complicated things like Digital Image Manipulation, Animation, etc.
You can find out more by checking out the feature list.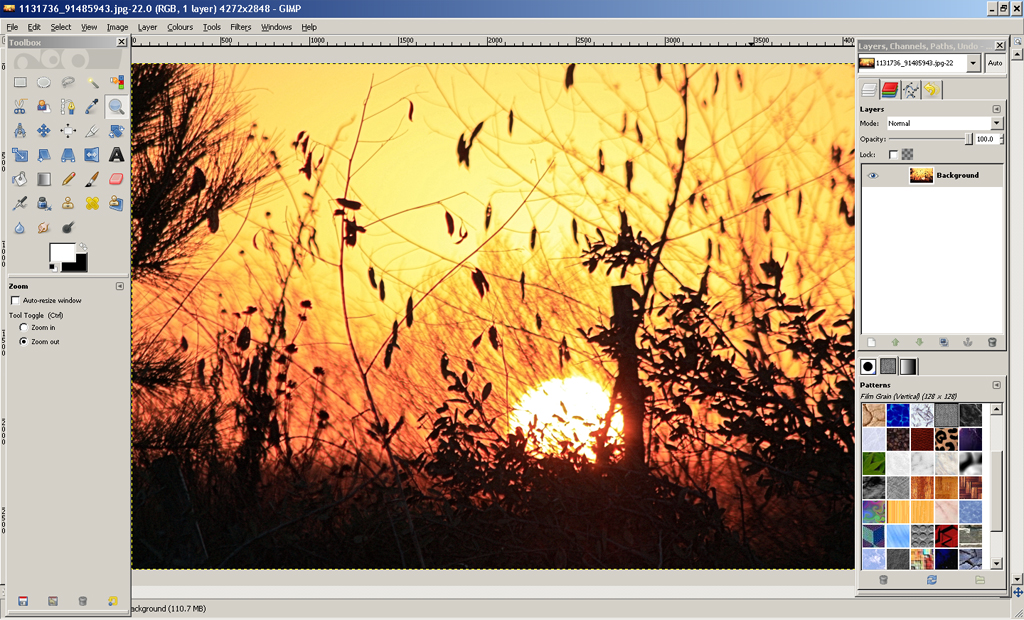 Since this is a community developed piece of software, there are quite a few tutorials out there to help you get acquainted with the software and then there are even more tutorials to help you become a pro with GIMP. (That sounds so wrong!)
In itself and as an image manipulation tool the software is great. However if you compare it to other professional software like Adobe Photoshop or Corel Draw, it leaves a lot to be desired. But I think that's the great thing about GIMP. It's not meant to compete(or maybe it is?) with those programs, but as an Open Source solution for people who don't wish to spend the money on expensive software but still want to give their creative side an outlet.
All in all, I'd say it's a nice piece of software and I'd definitely suggest giving it a go before you make your decision. For me, though, I'm going to stick to the more conventional Photoshop. (I am quite an Adobe fan-boy, so don't take my word for it.)
You can download GIMP here, and here's the documentation. Incase you're a developer and would like to contribute to the development of GIMP, you could either do plugins or dive straight into the core development of GIMP.
Here are some of the things I came up with after some tinkering around in GIMP.
This is a film-grain look that I've given to a random picture that I pulled from Sxc.hu.
And here I converted a photograph of Uma Thurman into a sketch.
(GIMP, Pulp Fiction, Uma Thurman…. You guessed it! I'm a huge QT fan. In fact, I have 'Son of a Preacher Man' playing in the background right now…)
If you try GIMP, let us know what you think about it. Additionally, if there are any other Image Manipulation softwares you'd like us to test out for you, let us know and we'll have our very own 'Gimp' test it for you.