President Obama rules from WhiteHouse.gov
I dropped in at the White House today because a friend asked if the White House has a site. Ok, not the White House, but at WhiteHouse.gov and I must say it is one of the most pleasing looking professional sites I've ever come across.
During his campaign Barack Obama harnessed the power of social networking like Twitter and the internet in general. We know how that turned out and everyone wondered if he would continue his tryst with technology.
Well, he isn't disappointing anyone there as the post on the new White House Blog says: Change has come to WhiteHouse.gov. I quote: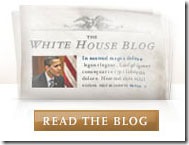 Welcome to the new WhiteHouse.gov. I'm Macon Phillips, the Director of New Media for the White House and one of the people who will be contributing to the blog.

A short time ago, Barack Obama was sworn in as the 44th president of the United States and his new administration officially came to life. One of the first changes is the White House's new website, which will serve as a place for the President and his administration to connect with the rest of the nation and the world.

Millions of Americans have powered President Obama's journey to the White House, many taking advantage of the internet to play a role in shaping our country's future. WhiteHouse.gov is just the beginning of the new administration's efforts to expand and deepen this online engagement.
So, if you're interested, the blog offers an RSS feed as well as email updates. You can also request for what you want to see on the blog. Besides the blog the site has also been updated with fun facts and a slideshow of the past American Presidents.
I'm looking forward to updates on the blog. How much will be revealed… that remains to be seen!