VLC media player (Multimedia Monday)
VLC media player is a highly portable multimedia player for various audio and video formats (MPEG-1, MPEG-2, MPEG-4, DivX, mp3, ogg, …) as well as DVDs, VCDs, and various streaming protocols.
VLC media player comes with tonnes of features. The best feature is that you do not need to have any codecs installed on your computer for VLC to play it.
The 0.9.2 version released recently is one of the best version releases of VLC and it is clear proof that the VideoLAN team are dedicated in churning out of the best players in the market.
VLC Player is available for Windows, MacOS X, BeOS, Syllable and several flavours of Linux.
VLC supports tonnes of formats and so, it can function as your audio and video player. The screenshot below from the VLC site highlights interface of 0.9.2.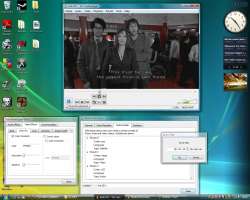 Download for:
– Windows
– Mac OS X
– BeOS
– Other Operating Systems