MediaMonkey (Multimedia Monday)
Your music collection is growing and growing fast and after sometime you realize it is totally unmanageable. If you're as particular at me, you'd like your music neatly tagged the files properly named and arranged, then this is one tool worth using.
MediaMonkey is a music manager and jukebox for serious music collectors and iPod users. It catalogs your CDs, OGG, WMA, MPC, FLAC, APE, WAV and MP3 audio files. It offers an intelligent tag editor which looks up missing Album Art and track information via Freedb and the web, and an automated file and directory renamer to organize your music library.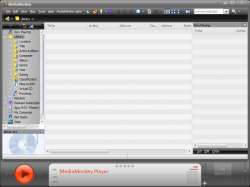 Free Features
Manage Your Music
Sync tracks and playlists with your iPOD, iTunes and other music players
Record & Convert music
Identify Tracks and Tag them from the web
Organize & Rename your tracks
Create Playlists
Burn your music onto CDs/DVDs
Detect and play podcasts
A full featured Music player with visualizations
Create Statistics and other Reports of your music collection as Excel, html, or xml files