Quickly split large MP3 files with Mega MP3 Splitter
Have ever converted an audio-tape to digital format? If you are doing so, the normal way is recording via the Line-In. The recorded audio is a single long file.
You could use a high-end complex graphical tool to split this mp3 or you can use MP3 Splitter.
MP3 Splitter is an MP3 audio editing utility that is used to split an MP3 into multiple files (tracks). This utility is perfect for dividing those long radio shows or mixes that you have.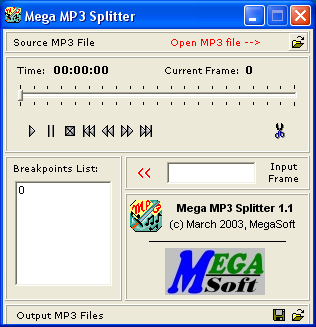 Using the program is very simple. You select the MP3 file and enter the breakpoints in the list. You can do so by either entering them manually or by playing the file and hitting the scissors button.
v2.0 beta is a major improvement over 1.1, as you can now set the ID3 tags. File names are also named based on these ID3 tags.
Do you have any other tool that you use for splitting mp3s and other file formats? Let me know.
– Mega MP3 Splitter v1.1
– Mega MP3 Splitter v2.0 Beta
– Documentation (pdf)