Migrate to Outlook.com for free with TrueSwitch
Barely two weeks since its preview launch and Outlook.com already has 10 million users. I migrated to Outlook.com and am impressed by its clean and sleek features, which I believe is its biggest selling point for users.
However, in spite of today's day and age, migrating from your existing email can be a painful experience. You need to copy all your emails, contacts and more importantly let all your contacts know your new email address. The last part is indeed the hardest.
This is where TrueSwitch comes into the picture. TrueSwitch provides you the 3 essential services that you need while switching:
Copy: TrueSwitch will copy over all your emails and address book from your old email address to your new one
Notify: It can send can email to all your contacts notifying them of your new email address and asking them to update their address books
Forward: Lastly, it can set up a forwarder in your old email that will automatically send your old emails across
While TrueSwitch normally charges a fee for this service, if you're looking to switch to Outlook.com, this service is free!
Visit http://www.trueswitch.com/winlive and you'll be presented with the form.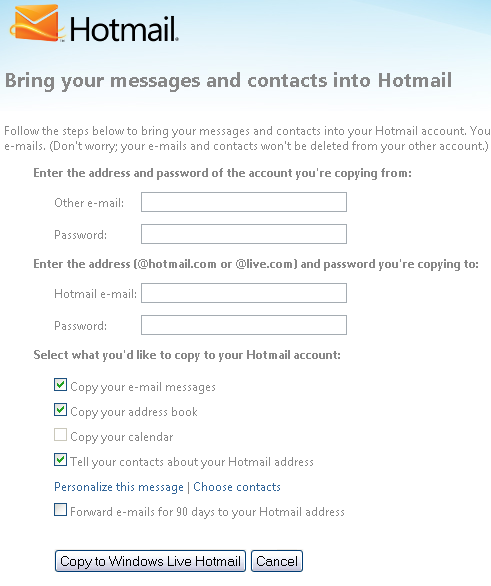 Since Outlook.com uses the same backend as Live.com or Hotmail.com, just entering your Outlook.com details in the "Hotmail e-mail" box will suffice.
It is a good idea to select the "Forward e-mails for 90 days" option since it will ensure that you don't miss out on any emails coming through to the old email, especially if you intend to stop checking it completely.
After you submit the form, you can check the status of the job request. The process will take longer if you've got a lot of email to move.
Have you tried TrueSwitch? Has this worked successfully for you. Or, do you prefer using Outlook.com as yet another new email to use?