Merge your Gmail Contacts
The Gmail team has been very very busy this last month or so. First we had the Send and Archive button. Next came the ability to store email offline. This was quickly followed by a new menu for labels and more than one inbox feature.
And now, Google Operating System reports a new feature that allows you to Merge Contacts.
Gmail includes a useful as well as extremely irritating feature of automatically adding people you email to your address book. And, if you email a contact on more than one email address you'll end up with duplicate contacts.
Now, for each contact you can add more than one email address and earlier, you would need to manually add their emails. Now, you can just select all the contacts you wish to merge and voila, Gmail will suggest the merged entry.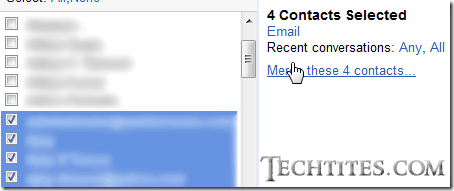 If you're OK with it, you can quickly hit Save, or alternatively, make the necessary changes and save the contact.
On other notes, the Suggested Contacts has been removed and you can find a new heading called All Contacts. I prefer this over Suggested, because now you can merge contacts through out.
Good going Gmail!