How to recover deleted messages in Outlook.com
Yesterday, we told you how to get your Outlook.com email. Outlook.com adds a great new feature that allows you to easily recover messages that you have deleted and here is how you go about this.
Step 1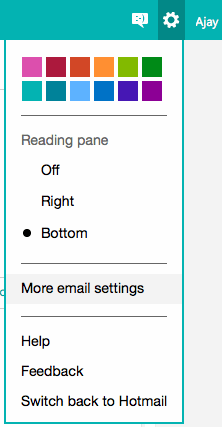 Select Options > More Email Settings as you can see in the screenshot above. You'll notice the little options icon in the top right of your browser.
Step 2:
Under Customising Outlook, select Advanced privacy settings
Step 3:
Select Let me recover deleted message.
With these 3 steps, you would have configured Outlook.com to give you the option to recover deleted messages.
Step 4:
To recover deleted email in the left pane of the Outlook window, click the Deleted folder. At the bottom of the window, click recover deleted messages.

Outlook will recover as many messages as possible and put them in your Deleted folder. If you don't see the deleted messages that you wanted, it means they are permanently lost.
When the recovered messages are back in your Deleted folder, you should move the important ones back to your inbox or personal folders because the Deleted folder gets cleaned out periodically.