Free icon kit: Arctic Sunset
If you're a designer, finding good quality icons does require a good amount of searching. So, here is a free icon set in PSD format courtesy the great folks at PixelKit.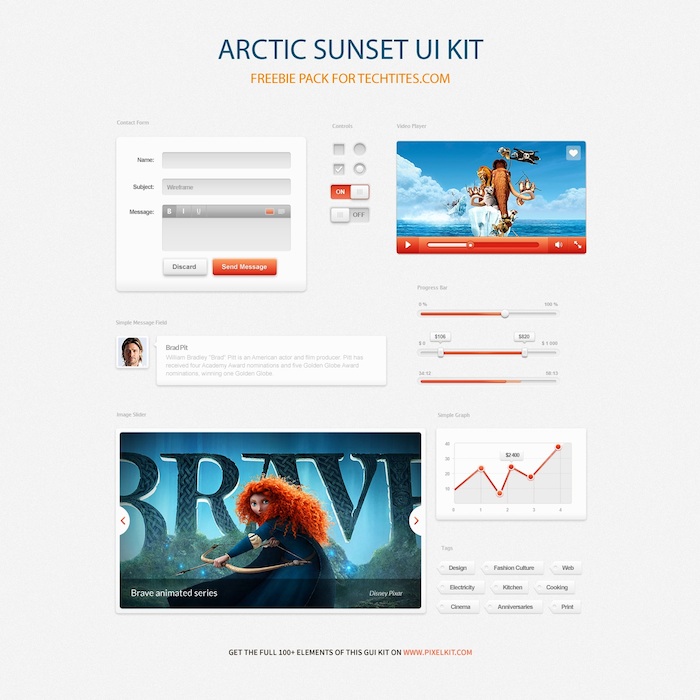 A clean interface offers quite a few benefits. It doesn't have the clutter that some sites have, and that helps to make it easier for your visitors to navigate. This clean Arctic Sunset UI kit is a great choice for just this purpose. The elements in the kit help to make creating a quality site easier than ever before for pros and amateur developers alike. The freebie kit offers more than 30 scalable vector graphics across several different categories. The cohesiveness of the elements helps to ensure a unified look across the entire site. Finding the perfect elements for your blog is easy thanks to the kit.
The Arctic Sunset UI kits is designed by PixelKit. PixelKit.com specializes in UI kit creation. That includes boxes, buttons, icons, visual controls, sliders, menu elements, app screens and more. When you need your central air conditioner repaired, do you call your friend down the road? No, you call a specialist, an expert, someone who knows their trade inside and out. That's what you get with PixelKit.com.
Download Arctic Sunset UI
Download "Arctic Sunset UI Kit"

Arctic-Sunset-Description.zip – Downloaded 1160 times – 5.08 MB