Find people online with Zopeo
In today's digital world, almost all of us have traces online. e.g. you can find me on several social networks including Facebook, Twitter, LinkedIn, etc.
I also have  a few websites and some pictures of me (though pictures don't have my name usually).
Zopeo helps you find details about your online presence as well as over 800 million others, all in one place. It searches for profiles on LinkedIn, Facebook, Twitter and Google Plus as well as 15 other sites. It provides you with latest real time blogs, images, videos, webpages for what you have searched for.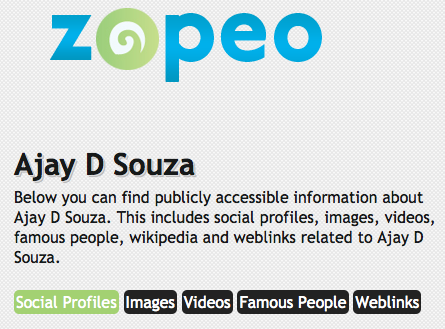 Above are the five different sources of information for my name. Given the wealth of information available online, you might need to vary your search a bit in case you don't find what you are looking for. I was able to find my Google Plus profile and LinkedIn, no pictures and most of my sites.
Zopeo is a good option if you're trying hard to find your long lost friend. Your other alternative is to try contacting a few common friends!
Tried out Zopeo yet? What was your experience?