Air Playit – Free Video Streaming App for Your iPhone and iPad
We all know that Apple reveals its front and center streaming technology through AirPlay. It works brilliantly. You can stream practically anything from computer to your iOS devices. But AirPlay works only with video formats that Apple itself supports. How can it be when you want to play some other videos in AVI, FLV, WMV, AVCHD, M2TS, MTS format on your iPhone iPad?
In the current market, there are several apps that can help you stream videos and audios to your iOS devices, such as Air Video which costs you some dollars, and Air Playit which is totally free to download at the Apple App Store.
Here I will introduce Air Playit to you. You also like free stuff, don't you?
Air Playit, a free video audio streaming app, enables you to stream all your video audio collections from your PC/Mac to your iPhone iPad via WiFi, 3G/4G network. Both Apple supported MP4, MOV, M4V videos and other videos like AVI, FLV, and WMV can be easily streamed to your iPhone iPad for playback. Even HD videos, such as MKV, M2TS, MTS videos can be played on your devices smoothly.
Air Playit contains two parts: the streaming server and the app client.
Download and install Air Playit server on your PC/Mac and the app client on your iPhone iPad.
Main Features of Air Playit Server
Information: It will show you the port and IP address, which may be used to specify the server address when the client app can't find the connection information by Bonjour.
Permission: Specify permissions to the shared folders. Three permission levels are available: Admin, Kids and Public.
Shared Folder: Import video music that you want to stream to iPhone iPad from your hard disk folder or from the iTunes Playlist.
Conversion: Add and manage the offline conversion task. You can also do this job on your portable devices.
Web: "Apply" the "Web", with the URL displayed, you can visit your server by web browser.
Setting: Choose a destination for the video & audio converted offline.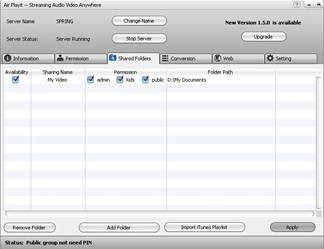 About Air Playit App Client
The app client will automatically interact with the server and play the streaming videos over the air. If the client can't find the server, you can manually add the Port and IP.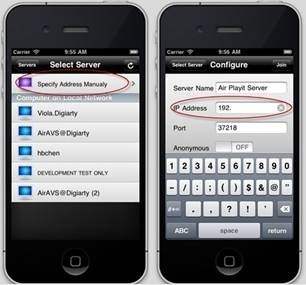 Tap the media folder under the server; find the video that you want to watch. Click "Play" then you can effortlessly enjoy the video.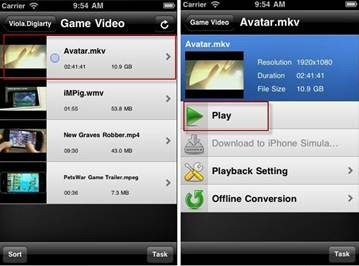 Air Playit also enables you to adjust the parameter settings by clicking "Playback Setting" – switch the network connection type among WiFi, 3G, 4G and change the video resolution, bitrates, audio, subtitle, etc.
Or you can offline convert the Apple unfriendly video to MP4 format and then download it to your iPhone iPad for playback when there's no network connection. For more features about Air Playit, please visit: http://www.airplayit.com/