Windows Live Search for Messenger
New on the Windows Live Messenger activities list is integration with Window Live Search.
All you have to do is open a messenger window and select Search from the Activities list. A side window is opened where you can perform your search.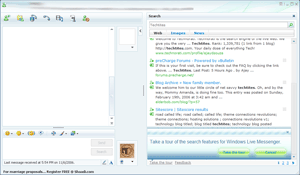 This is a single user activity, i.e. the person you are chatting with has no clue that you are using the search activity (tested this out with a pal of mine).
You can search the Web, Images and News. You can also insert the results in the chat window with a single click.
Really useful if you want to quickly search the web. Something I can use while chatting with friend 🙂