Five Tips to Secure Your Gmail Usage
Last week, MakeUseOf reported more domains being stolen, all owned by Gmail users. Brandon from GeekCondition reported a proof of concept. However, Google has replied stating that Gmail has no vulnerabilities.
In this post I'll highlight a few tips on how to use Gmail safely. These apply to Google Apps as well.
Tip 1: Always use https
Gmail offers you the option to force usage of https always. You can activate the same by navigating to Settings > General.

Tip 2: Check your filters regularly
Regularly check your Gmail filters to see that there are no unknown filters or redirects. You can access the filters at Settings > Filters.
Tip 3: Check where you are entering your login information
Before entering your login information, stop and take a look at the address bar of your browser. Always login only if the address starts with http://www.google.com/accounts/

Tip 4: Check your account activity
At the bottom of every screen in Gmail you have a thin line called Last Account Activity.

You can click on Details to view information of where all you are currently logged in as well as Signout of all activity.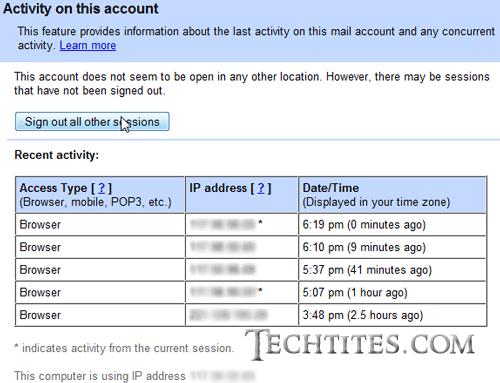 Tip 5: Logout when you are done checking mail
Once you have finished checking your email, hit the signout button at the top right. Do this especially if you are sitting on a shared computer. As a added security, clear the browser cache, cookies and temporary files after signing out.
Do you have any others tips that you use for securely browsing your Gmail account? Comment below.