FastStone MaxView (Tool Tuesday)
So you have this whole stack of images and you want to quickly go through them, without needing to add it as an album in Picasa or a similar photo organizer?
FastStone MaxView is a tiny, very fast and innovative image viewer that supports all major graphic formats. Its intuitive layout and commands allow everyone, from beginners to professionals, to view and manipulate images quickly and efficiently.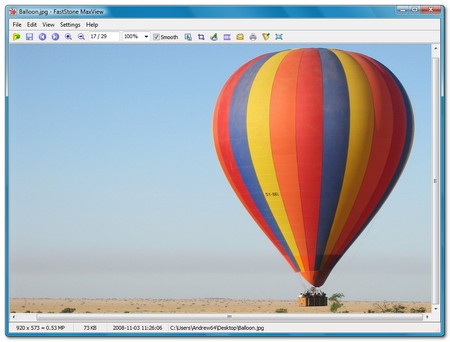 Features (from the site)
Lightweight, fast and intuitive
Auto hidden menus and toolbars that make the best use of screen space
Full screen viewer with Select – Zoom support
Crystal clear and customizable magnifier
View detailed image information including EXIF metadata
Slideshow with 150+ transitional effects and MP3/WAV/MIDI/WMA background music support
Lossless JPEG rotation and crop
Internal editor that adds texts, arrowed-lines, highlights to images
Call external editors with a single hotkey press
Many hotkeys for image navigation and manipulation (copy/move/delete/rename/rotate)
Rich options/settings for personal preference
Undo, Redo and Mouse Wheel support
Common image formats support, including loading of JPEG, JPEG2000, GIF, BMP, PNG, PCX, TIFF, WMF,
ICO, CUR, TGA and saving to JPEG, JPEG2000, TIFF, GIF, PCX, BMP, PNG, TGA
Digital camera RAW formats support, including CRW, CR2, NEF, PEF, RAF, MRW, ORF and DNG