Wondershare PDF Editor Beta For Free In 100 Days
I recently wrote about Wondershare PDF to Word online, which is a good route to edit PDF files. However, it does require the intermediate step of converting to Word.
Wondershare PDF Editor includes all the features people need to manage and edit PDF files: view PDF file; edit text, object, images; annotate PDF with shapes, odd geometry, sticky note, highlighter, pencil, etc.; convert PDF to MS Word documents; merge and split PDF. Wondershare PDF Editor should be a comprehensive PDF tool.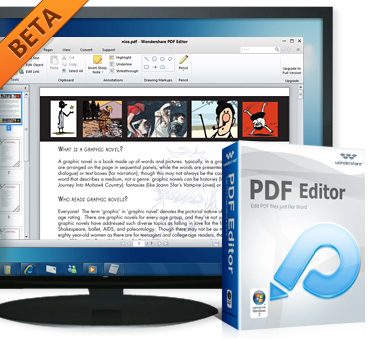 The software has the familiar Office style design which seems like you are working right out of Microsoft Word or Excel.
Though named as PDF Editor, it can be regarded as a PDF reader. Compared with Adobe Reader, which is always slow and bloated, Wondershare PDF Editor is much faster and simpler. You can open multiple PDF files at the same time and easily shifted from one to another.
Simple user interface, no more submenus makes it so easy that even people with  few computer skills will be able to use it with ease. Just click "Edit Text", then everything is under control: adding text, setting font style, color, size, and deleting text.
The most often used feature of editing PDF files is adding annotations. One cool feature of Wondershare PDF Editor is its ability to easily add annotations. Just click to add annotation freely and effortlessly.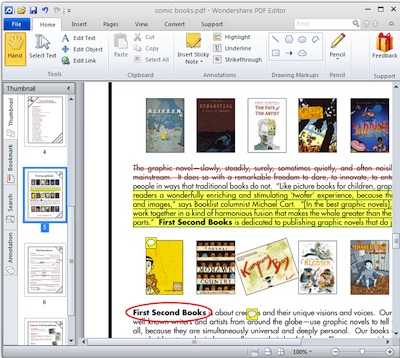 Wondershare PDF Editor gives you a one click option to merge imported PDFs or a simple click to set page ranges to split PDF files.
Wondershare is running a contest that will allow you to win a the upcoming paid version for free. All you need to do is provide some good feedback 3 or more times on the beta. So, why don't you give the full feature PDF Editor beta a test for 100 days. If you do not wish to provide feedback, downloading the beta will allow you to update it to the upcoming paid version for 50% off .
– Download Wondershare PDF Editor for Window BETA