Update your Nokia phone with Nokia Software Updater
Last week, I guided you through Backing up your Nokia phone. This week, as promised, I'll teach you how to update your Nokia Symbian phone via Nokia Software Updater.
Let me remind you yet again that you should backup your phone settings before proceeding with the update as it will completely restore all the settings etc. of your phone like it was brand new!
Step 1
Open up Nokia Software Updater and hit the start button. You'll be presented with the screen below with the three scary yellow exclamation marks.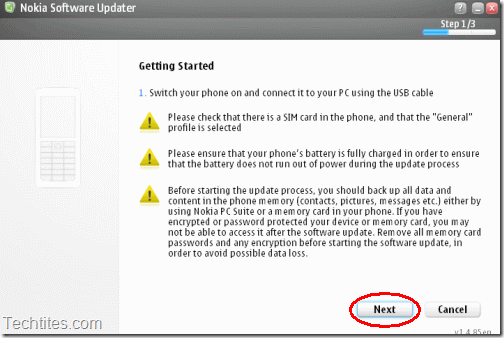 Before you get alarmed, read the instructions as these are extremely easy to follow. Make sure that you have the sim card in your phone and keep it set into "General" profile. In addition to this, make sure that your phone has a full battery. Even better, keep your phone connected to the charging outlet so that it is constantly charged as you update the phone firmware.
Connect your phone via the USB cable to your computer and hit the Next button to proceed.
Step 2
NSU will first identify the phone and then search for updates. You'll need to be connected to the internet so that NSU can search for updates.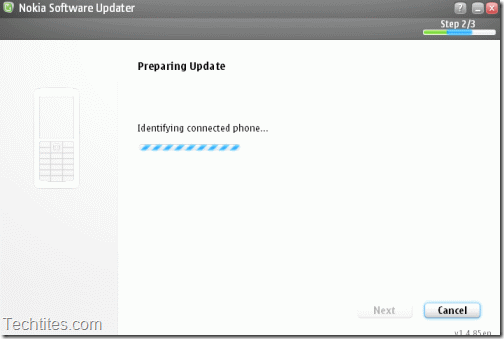 If there is an update available NSU will display the same to you and ask you to update. Alternatively, you'll be presented with the option of reinstalling the update.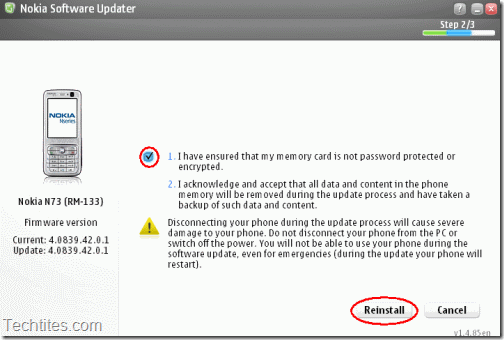 Read all that is present on the screen and then check the box and hit Install / Reinstall to proceed.
Step 3
Now, begins the long wait while the new firmware is downloaded off the internet. e.g. the firmware for Nokia N73 weighs in at around 64MB, so if you don't have a fast internet connection, it will be a long wait. (Hence, my point of keeping your phone plugged into a charging outlet)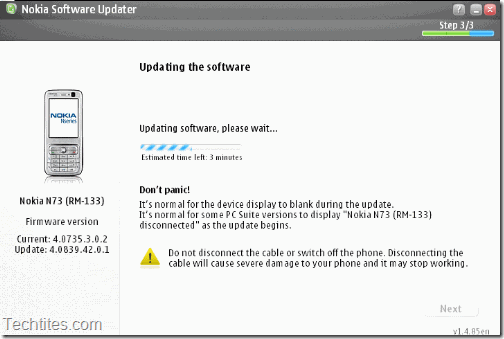 Once, the firmware is downloaded, NSU will update the phone software. What I really love about NSU is the zero interaction in this entire process. The software is updated and your phone will be restarted.
Step 4
You'll need to restore your phone backup now. Once again, follow the instructions in my previous post Backup your Nokia Phone with Nokia PC Suite, but choose the restore option instead of the backup one in Step 3.
So, have you updated your phone software? How easy was this for you?