Read over 2,100 newspapers on your iPad 3 with PressReader
And not just on your iPad, but also your Blackberry Tablet, Windows and Android devices! If you love to read and you can't keep away from your newspapers, then PressReader is one the best apps that you can download for this purpose.
PressReader is the only application that lets you read a growing list of over 2,100 full-content newspapers from 95 countries in 54 languages available through the world's largest online newspaper and magazine kiosk PressDisplay.com.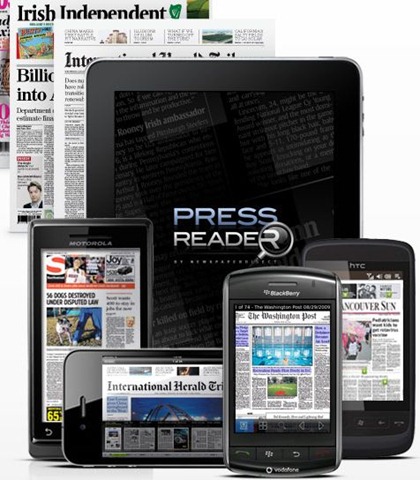 Key features include:
Flipping pages like you're reading a real publication
The ability to pan, zoom or rotate pages, articles and photos
Navigating publications using thumbnails or table of contents
Opening full articles in easy-to-read text views
Listening to publications using on-demand audio
Searching online across titles and selecting the titles you wish to download
PressReader offers various different subscription plans:
Pay as you go: Ideal for casual readers. You pay only $.99 per download of each issue. Ideal if you're not a regular newspaper reader.
Personal: If you are a regular reader or if you plan on downloading over 31 issues in a month, you should consider this plan. Enjoy reading all your favourite publications whenever or wherever you want, all for just $29.95/month
Corporate plans: Ideal for small and large companies and available for $99 and $199/month
– Android
– BlackBerry
– iPad/iPhone
– Windows 7