Opera 10 Alpha is out and it's a perfect Acid3
Opera 10 Alpha has been released with brand new features that's made is faster, better and well as usual ready to capture its share back!
Presto 2.2 Engine
Performance boost
100/100 and pixel-perfect on the Acid3 test
Auto-update
Inline spelling checker
Opera Mail improvements, including rich text composition and delete after X days
Widget Improvements on Linux
Opera 10.0 Apha passes the Acid3 Test with a perfect 100/100. I ran the test on other browsers and they were far far behind!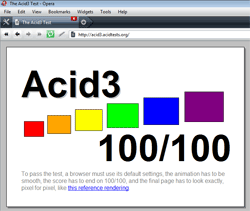 – Windows
– Windows Classic
– Macintosh
– Macintosh (Intel-only)
– UNIX