NetSetMan (Software Saturday)
If you're located in a place like me where I have a host of wifi and LAN connections to choose from.
In such a situation, I'm constantly required to change my IP settings and other settings whenever I jump networks.
I normally don't need to use to a tool for this, as practice does speeds up this process. However, it can be quite a pain.
This is where NetSetMan comes in.
NetSetMan is a network settings manager which can easily switch between 6 different, visually structured profiles including:
IP Address
Subnet Mask
Default Gateway
DNS Server
WINS Server
Computer Name
Workgroup
DNS Domain
Default Printer
Network Drives
SMTP Server
Hosts File Entries
Scripts (BAT, VS, JS, …)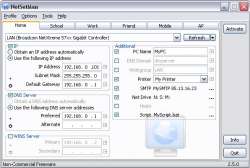 NetSetMan also has a pro version that adds some extra features:
Can be used at work
Unlimited amount of profiles
Network-Domain
Complete Proxy Settings
(Windows/Internet Explorer & Firefox)
Browser Home Page
(Internet Explorer & Firefox)
Download NetSetMan 2.5.1 (1375KB)