How to protect your privacy on LinkedIn by hiding your Public Profile
I love LinkedIn. At the time of this post, I am nearing 1,000 connections there. Unlike generic social networking sites like Facebook, LinkedIn has managed to maintain its niche of being a business connections site.
And, as a business connections site, many of you might have uploaded your CVs and most probably your detailed information is available to everyone on the internet, including showing up in search results.
LinkedIn gives you the power to easily customise which you this information is available for public viewing, while your contacts will be able to view all your details. I'll show you how to go about hiding this information.
Navigate to your Settings page by clicking your name. You'll be prompted to login. Once there, select "Edit your public profile".
LinkedIn will view a new page with your profile available for you to see along with several options available to turn on or off as below: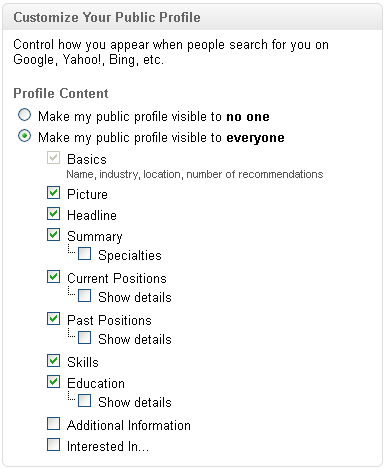 You'll see above that I've unchecked many of the boxes which effectively turns off a lot of details from my profile. If you're very secretive, you can select the very first radio button called "Make my public profile visible to no one". This will completely turn off your public profile and only those who are on your connections will be able to see your details.
This is what my public profile looks like now. How does yours look?