Apple unveils iPad 3 – In stores from 16 March 2012
Rumours of the new iPad have been raging for a long time. Yesterday, Apple officially launched the iPad 3. And, I didn't hesitate in pre-ordering the same! The iPad 3 costs £399 in the UK and $499 (plus tax) in the US. The iPad 2 is now available at £329 in the UK and $399 (plus tax) in the US.
The iPad 3 boasts of several new features including:
Retina Display
This is the biggest feature addition of the new "Resolutionary iPad". With four times as much pixels on the same screen, the iPad just makes everything clearer.

The new display has a 2048×1536 resolution which is 3.1 million pixels which is a million more than standard HDTV displays.
A5X Chip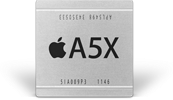 The new A5X is a 1GHz quad core processor, which is 4 times faster than the processor in the iPad 2. This helps deliver the same level of performance while powering four times the number of pixels, while maintaining a 10 hour battery life.
5 Megapixel iSight Camera

Finally, the iPad gets a 5 megapixel camera that allows you to click high-quality photos and 1080p HD video. The camera boasts of a hybrid IR filter and f/2.4 aperture lens that allows you to shoot high quality photos
Ultrafast 4G LTE
The new iPad supports the latest wireless technology. You will need to purchase the iPad Wifi + 4G version to take advantage of this. If you're in the UK or USA or other countries with good 4G support, you have a better chance of enjoying this feature. In countries in India, where you might struggle to find a good 3G network, you're unfortunately, going to be stuck with terrible download speeds.
Built-in apps
The iPad comes with its very own set of apps including Mail, Photos, Safari, Facetime, etc. And, as usual, if you want more, you can always check out the ever expanding app store.
The official Apple iPad 3 trailer
Check out the official trailer. I loved the part where they give you a short explanation on the design of the screen.