If you don't like the bloated iTunes, then you have to try out YamiPod.
With the latest release (1.0.1) today YamiPod is now compatible with iTunes 7.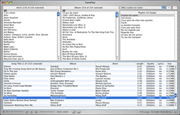 For those who haven't tried it out yet, YamiPod is a freeware application to efficiently manage your iPod. It can be run directly from your iPod and needs no installation. The clients are for Mac OS X, Windows and Linux, hence making it possible for just about anybody to take complete control over managing their iPod.
Not just that, YamiPod is also comes in such a huge collection of languages that you won't be left wanting!