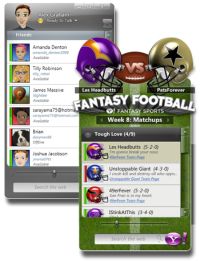 Built from the ground up specifically for Microsoft Windows Vista, the new version of Yahoo! Messenger looks so cool that I want it for Windows XP as well 😀
The features include:
Instant message, voice, webcam video, and more
Use the integrated Yahoo! Messenger Sidebar gadget to keep up with the friends that matter most
Also add Windows Liveâ"¢ Messenger friends to your contact list to see when they're online and IM them
Keep conversations organized by dragging and dropping them into one tabbed window
Brand new emoticons, program icons and alert sounds
Instantly change the look and feel of your Yahoo! Messenger interface
Automatic groups are created in your contact list based on your Yahoo! interests (i.e. Yahoo! Sports Fantasy Football league)
This announcement follows after Google released a Vista-compatible version of Google Talk.
Checkout the Video available that demonstrates the new features of Yahoo! Messenger for Vista.
(Visited 465 times, 1 visits today)