Actually, this one is for two weeks, so we have a good collection of must read articles in the world of WordPress.
So, you're new to WordPress and starting off on your first blog. This article guides you through a few essential items that you would help you enhance your blog.
WordPress 2.9 will have better support for embedding videos on your blog. It uses the oEmbed API. Viper, the original man behind the code, explains how you can go about easily embedding your videos in the upcoming WordPress 2.9.
WordPress gives you a lot of power on choosing what you want to display where. One method of controlling what displays what displays on which page / post is by using conditional statements. Addicott gives you the lowdown on what Conditional Comments, complete with examples.
Simple piece of code that can help you speed up the loading of your site, if you are using Thickbox or Lightbox. The problem with most scripts that are used generically on a blog is that they load on every page which can significantly increase load time. By loading these only when needed, you can cut down the load time of the scripts.
While content is king, the portion of the page around it also contributes a lot to increase visitor engagement on your blog. One such element is the sidebar. Is it contributing towards increasing the time your visitors spend on your blog? Or, is it just another element that increasing the clutter and scares your visitor away?
This article gives you some tips on improving your sidebar.
So you found that amazing plugin that is supposed to should revamp your blog with the most amazing set of features. You download it and activate and … you stare at an error that clearly indicates that your blog has crashed. What makes matters worse is that you can't even get into the admin area to fix this. Your first step should be to delete the plugin files and WordPress should normally fix the error.
What could make this difficult, is if you are not exactly sure which plugin caused the error. The best approach is to deactivate all your plugins in one shot and then start activating them one by one.
And to close this post, here are two official posts from the dev blog. The first one is an invitation from the dev team to participate in the 2.9 release which should be here at the end of the month. And, to make this easy, you can get hold of the new WordPress Beta Tester, that allows you to upgrade to the beta versions from within your Admin panel.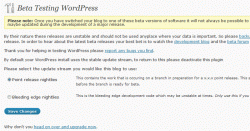 Highly recommended that you don't run this on a production site. I've got it installed on my Demoblog that I use to test my plugins and theme. And, if you are pondering whether to begin testing, Dougal gives you a download on all the features in WordPress 2.9.
And more importantly, if you haven't already done so already, remember to upgrade to WordPress 2.8.5 since it fixes tonnes of security issues.